---
Home
---
People
---
Research & Opportunities
Nova Scotia gold mine issues
NS invasive & vulnerable species
---
Publications
---
Teaching
---
Resources & Links
---
Lab news
---
Media & updates
---
Directions
---

Approaching a century-old legacy of arsenic and mercury contamination.



Note:

We are continuing this research in 2019. If you are interested in potential applications of our research, joining our research group or would like to contribute to our data analyses, please email Dr. Linda Campbell.



Nova Scotia has a long history of gold mining going back to the mid-1800's.

There are over 360 gold mines in 64 historic gold mining districts in the Cambro-Ordovician Meguma Supergroup, stretching over a 300-km length of NS. Between 1862 and the mid-1940's, 1.2 million troy ounces of gold were extracted, typically using mercury amalgamation techniques. Due to a lack of environmental regulations in the 1800's, there is a modern legacy of three million tonnes of finely-ground contaminated waste tailings.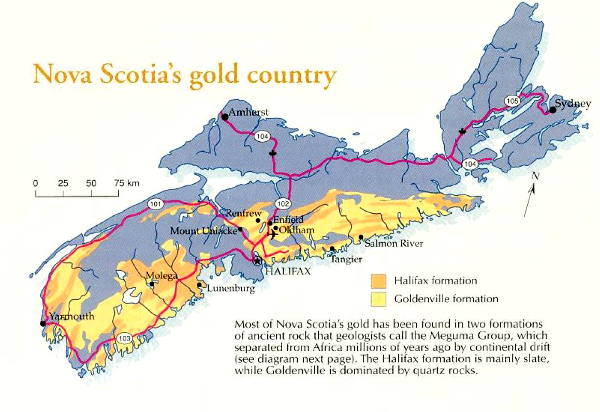 Mercury and arsenic remain elevated and of concern even 100 years later. Mercury-recovery techniques were practiced, but frequently 10 – 25% of mercury was lost to the environment through various means at each ore processing site. It has been conservatively estimated that a total of 3.7 to 9.1 tonnes of mercury may have been released to the NS environment from the 1850's to the 1940's. Since the original ore also included arsenopyrite and other arsenic-bearing pyrites, the gold-mine tailings also contain elevated arsenic. After processing, untreated tailings were frequently slurried into nearby freshwater systems without regard for the consequences. The legacy of localized tailing wastes near freshwater sites in 64 gold-mine regions has resulted in multi-generational chronic exposure to mercury, arsenic and other toxic elements for wildlife and humans. Many sites across Nova Scotia still bear the visible scars of this extensive mining and processing a century later.




We are doing something about this major environmental issue. There has been many excellent studies of arsenic and mercury exposure and impact in terrestrial ecosystems and geology. However, there is a significant knowledge gap for aquatic ecosystems of Nova Scotia, with only a few publications and reports on this topic.

The DEEHR team is carrying out several investigations looking at this significant environmental and industrial issue for Nova Scotia, including:

Studying the bioaccumulation and distribution of arsenic and mercury in aquatic invertebrates and fish across the province to assess the potential risk of gold mine tailing wastes to aquatic ecosystems.
Establishing ecotoxicology testing of key species in the laboratory to examine the rate of bioaccumulation, speciation, reduced functionality and lethality of the toxic tailings.
Developing a low-cost additive method which could potentially significantly reduce the risk and toxicity of toxic gold mine tailings to terrestrial and aquatic biota as well as to humans.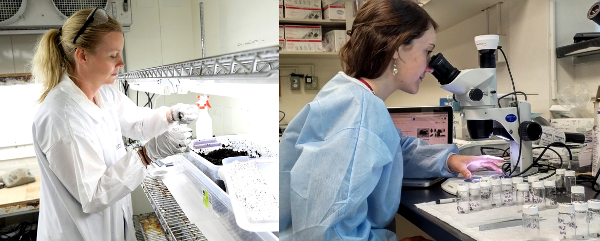 RESOURCES:
Gold: A Nova Scotia Treasure. Comprehensive website resource. Link.
Nova Scotia DNR Geoscience & Mine Branch Maps, Reports & Data. Link.
Dr. Michael Parsons et al. 2012. Environmental geochemistry of tailings, sediments and surface waters collected from 14 historical gold mining districts in Nova Scotia. Geological Survey of Canada. Link to PDF of Open File 7150 (note: large document, 326 pages)
NS DNR Gold District GIS Data from E.R. Faribault (1898 - 1919) maps. Eastern Meguma; Western Meguma.
What do gold mine tailings look like? (PDF file from NS Environment). Link to PDF.
Dr. Emily Chapman's seminar on low-dose selenium additives for reducing toxicity of gold mine tailing waste to earthworms. Link to You-tube video.
Molly LeBlanc's Three Minute Thesis talk "Not All That Glitters: Assessing Environmental Effects of Abandoned Gold Mines". Link to You-tube video. PDF transcript.
EEV Chapman*, J Robinson*, J Berry & LM Campbell. 2016. Can a Low-Dose Selenium (Se) Additive Reduce Environmental Risks of Mercury (Hg) and Arsenic (As) in Old Gold Mine Tailings? Water, Air, & Soil Pollution.

Read online for free:

http://rdcu.be/mFfT.
CBC News article about the NS Lands Inc RFP for Montague and Goldenville (below) and Dr. Campbell's input: Link.
NS Government NS Lands Inc - Request for Proposals Tender Details "FORMER GOLD MINE SITES MONTAGUE AND GOLDENVILLE - For Closure Concepts and Costs". Tender ID NSLAND97 (September 2018. Large document! 873 pages.)
Zotero Library "NS Gold Mine Contaminated Sites". Private group for DEEHR use only, includes related reports, publications & articles.
Historical documents associated with keywords "nova scotia gold" via the Internet Archive.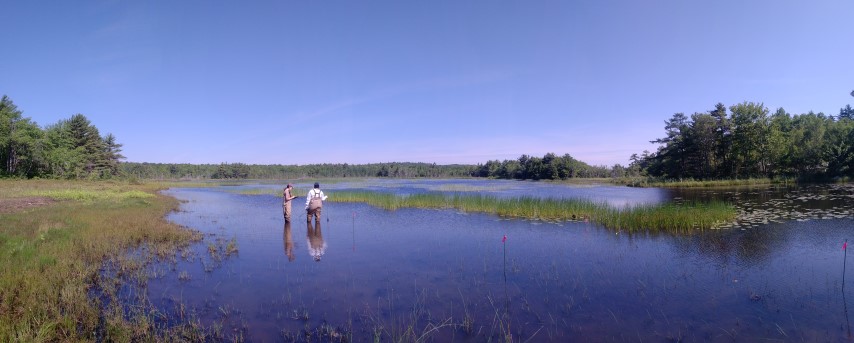 ---
Headings
---
-
Legacy of gold mining impacts in Nova Scotia.
- Mercury and arsenic issues.
-
NS Gold Mine Contaminants
-
Useful resources.
---