---
Home
---
People
---
Research
Historical gold mine tailings
- Ecology & biomonitoring
- Remediation

Invasive species




- Chinese mystery snails


- Chain pickerel
- Crayfish
---
Publications
---
Teaching
---
Resources & Links
---
Lab news
---
Media & updates
---
Directions
---

Chain pickerel are not fussy eaters.



Note:

If you are interested in potential applications of our research, joining our research group or would like to contribute to our data analyses, please email Dr. Linda Campbell.

Chain pickerel (

Esox niger

) is a widely introduced fish species in Nova Scotia lakes.

It is an aggressive ambush predator which will consume a wide variety of food ranging from dragonfly larvae to fish to frogs. Small mammals, birds and turtles have even been found in chain pickerel stomachs! Chain pickerel is associated with significant declines in diverse fish and amphibian populations and will impact native sport fisheries.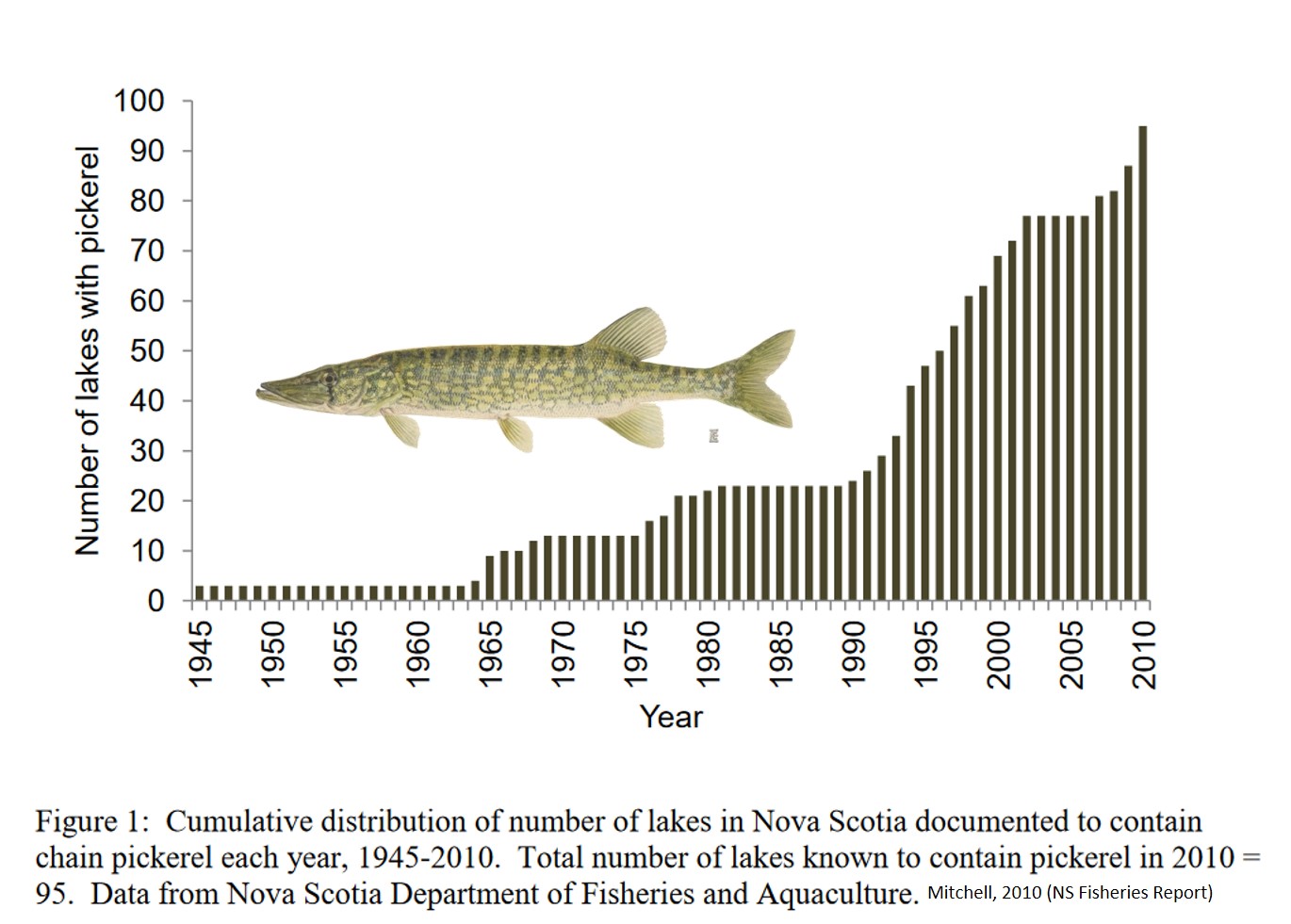 Our work looks how chain pickerel may be affecting contaminant transfer and vulnerable species in many lakes across Nova Scotia and New Brunswick. We are using stable isotopes of nitrogen and carbon and mercury analyses to analyse food web structure connectivity and how chain pickerel may be affecting food webs.

We are currently collaborating on several projects at those locations that focus on impacts of chain pickerel on vulnerable ecosystems and food webs.
RESOURCES:

DEEHR Resources
D Swinemar. B Knockwood & Linda Campbell (2020-2022) Interactive map of chain pickerel & smallmouth reports across the Maritimes. Link.

DEEHR Publications & theses
Forthcoming. Watch this space!
External resources


SELECTED MEDIA MENTIONS (for full list, go to this page.)

Researcher asks Lake Utopia anglers to fish for science.

Rhythm Rathi for Saint John Telegraph-Journal (Sept 19, 2022). Erin Francheville: "The chain pickerel isn't native to Atlantic Canada, she said, and was first introduced into lakes in Nova Scotia in 1945." [Link]




Are invasive pickerel endangering rainbow smelt in Lake Utopia?

Jennifer Sweet for CBC News NB & CBC Radio One NB (Sept 7, 2022): Erin Francheville: "We can't move forward … with recovery efforts and management, without extensive evidence and a better understanding of why." [Link][Screenshot][Transcript to be uploaded]




Masters student at Saint Mary's University conducts study on Lake Utopia.

Rose Murphy for Saint Croix Courier NB (Aug 26, 2022): Erin Francheville. "Chain pickerel can quite quickly become a top predator". [Link].



---
Headings
---