---
Home
---
People
---
Research & Opportunities
Historical gold mine tailings
Chinese mystery snails
Chain pickerel
---
Publications
---
Teaching
---
Resources & Links

---
Lab News
---
Media & updates
---
Directions
---
Research from the Dynamic Environment & Ecosystem Health Research group is routinely featured in regional, national and international media. In addition, Dr. Campbell and her research group members are frequently invited to comment on topics related to mercury and environmental contamination, lake health, fish and food webs. Feel free to contact Dr. Campbell and University Communications if you would like a member of the DEEHR team to provide expert insights on key environmental stories.




Stay tuned!

Additional media and public outreach updates will be posted here.


Deaf researchers are advancing the field of science - but barriers still hold many back: Moira Donovan for CBC Quirks and Quarks Radio show (Dec 4, 2021): Linda Campbell: "When barriers prevent Deaf scientists from contributing to these kinds of challenges, she said, "you're losing that whole group of people who have such intense, powerful skills that can advance the field of science." [Link, with ASL-English interpretation][Transcript][Screenshot]

How lichen measure pollution: Portia Clark (Information Morning, CBC Radio) by Moira Donovan (Sept 7, 2021): Michael Smith: "we use lichens to look at the air quality and lichens, they accumulate elements from the atmosphere rather than from roots, because they don't have roots like normal plants do. So they accumulate the elements from the air, and that's why they're good to look at the air quality.." [Link][PDF transcript]

Study shows long-lasting impacts to lake health from old gold mines.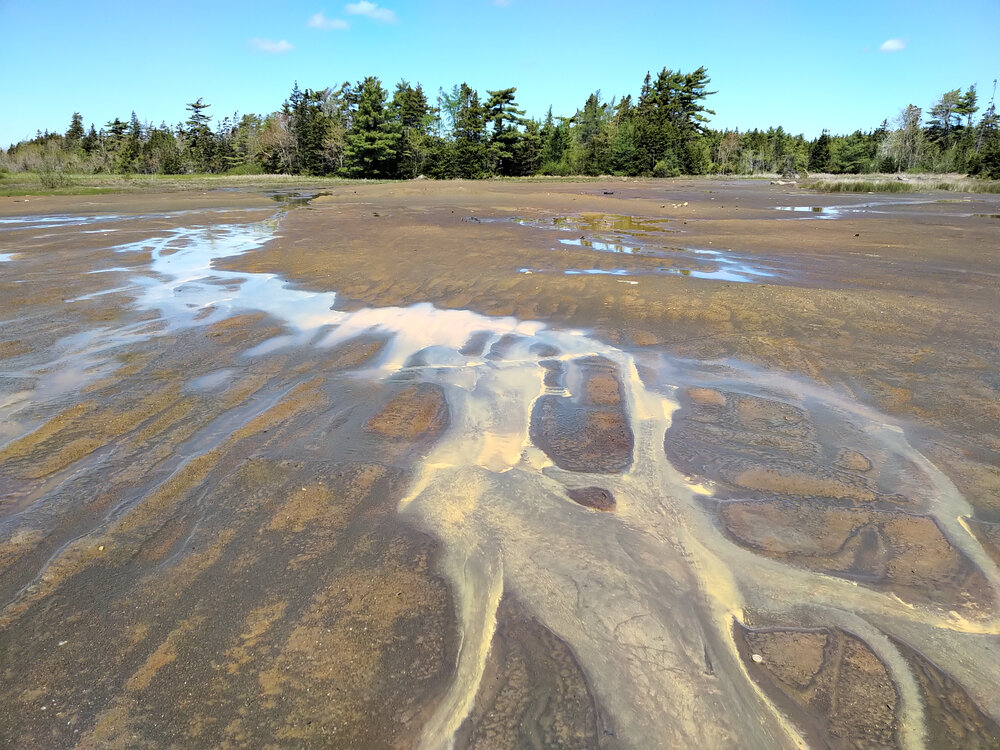 Joint MTA-SMU media release May 26, 2021. 'New findings of a multi-university team of researchers show that pollution from historical gold mining in Nova Scotia, Canada, persists at levels that impact the health of aquatic ecosystems, despite mine operations closing nearly a century ago.' [MtA ECAB lab press release][SMU press release][Screenshot].[@LM_Campbell Twitter thread]

Sky high arsenic levels in Dartmouth lake are from old gold mine. Aaron Beswick for Halifax Chronicle-Herald (May 21, 2021). [Link][Screenshot]

Arsenic legacy in lake-bottom sediments from historic N.S. mine worries researcher. (May 26, 2021) Michael Tutton for Canadian Press. [CBC Link][Screenshot]



Saint Mary's scientists enter into five-year partnership with Atlantic Gold to research remediation of historic gold mine tailings in wetlands.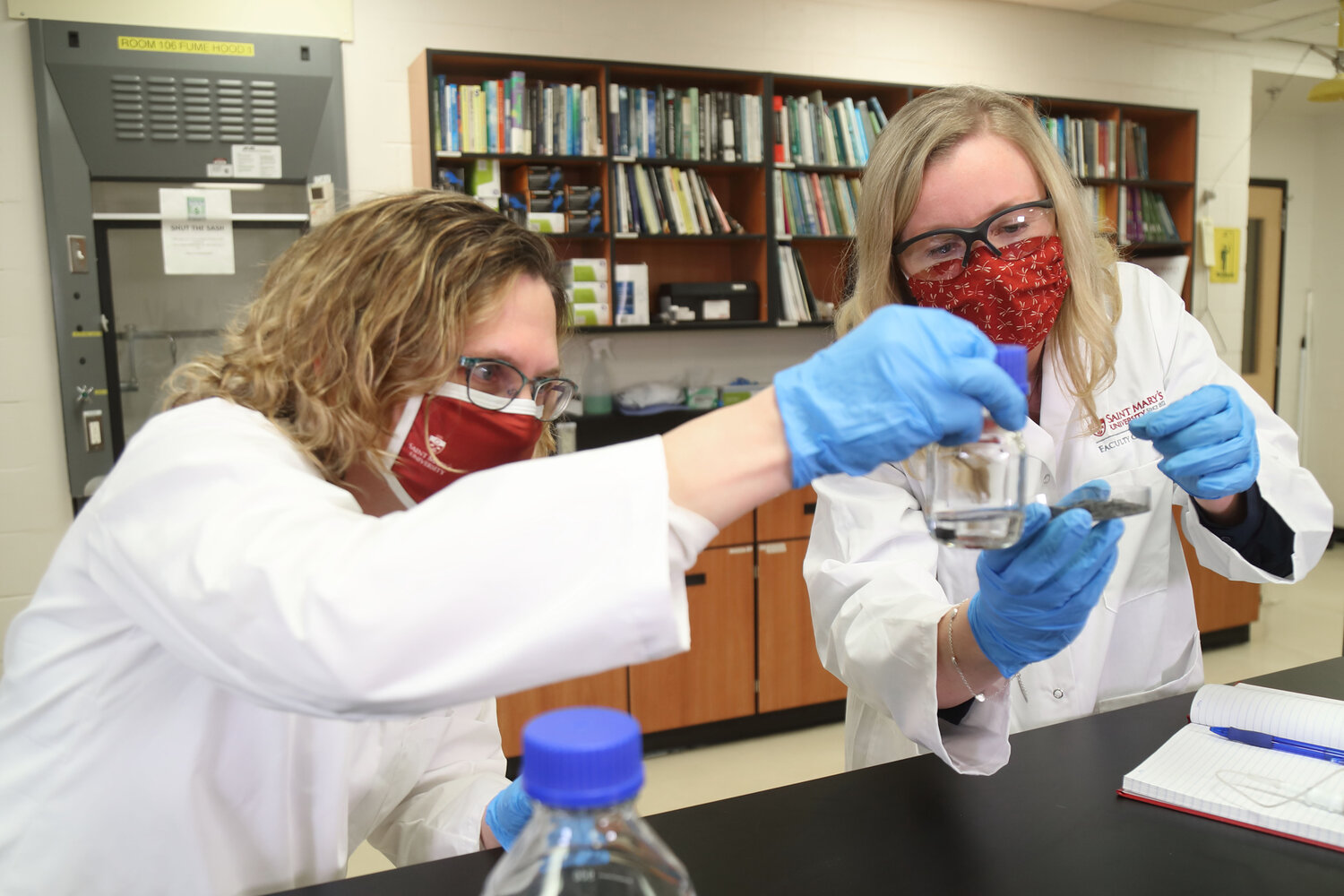 Joint SMU-AMNS media release March 2, 2021. 'Saint Mary's University's research into environmentally sustainable and cost-effective remediation of historic gold mine sites across Nova Scotia is receiving a boost in the form of a five-year partnership with Atlantic Gold, a wholly owned subsidiary of St Barbara Ltd, based in Australia.' [Link][Screenshot].[@LM_Campbell Twitter thread]

SMU professor applies lab-tested methods to address toxic scourge of gold mine tailings. Roger Taylor for Halifax Chronicle-Herald (March 3, 2021, updated March 9). [Link][PDF]

Greenwashing the goldfields. Joan Baxter for Halifax Examiner. (March 3, 2021) [Link][Screenshot]

Researchers at SMU partner with Atlantic Gold to clean up old mine sites. Jeff Douglas for CBC MainStreet (March 5, 2021) [Link][PDF transcript]

SMU Partners with Atlantic Gold. Carmen Vela for allNovaScotia. (March 3, 2021) [Screenshot]

Atlantic Gold funds research into remediation of historic mines. Alec Bruce for Guysborough Journal, Toronto Star & Canadian Press (March 10, 2021). [Link][Screenshot]

2020
Fix needed 'sooner rather than later' for Williams Lake's falling water level says area councillor.

Chris Lambie for Chronicle Herald (Sept 10, 2020). 'Lakes are a bit more complex than bathtubs because there are multiple sources of water input and multiple sources of water output, so a holistic hydrological approach needs to be used to better understand the overall impacts of those factors.' [PDF copy] [Link].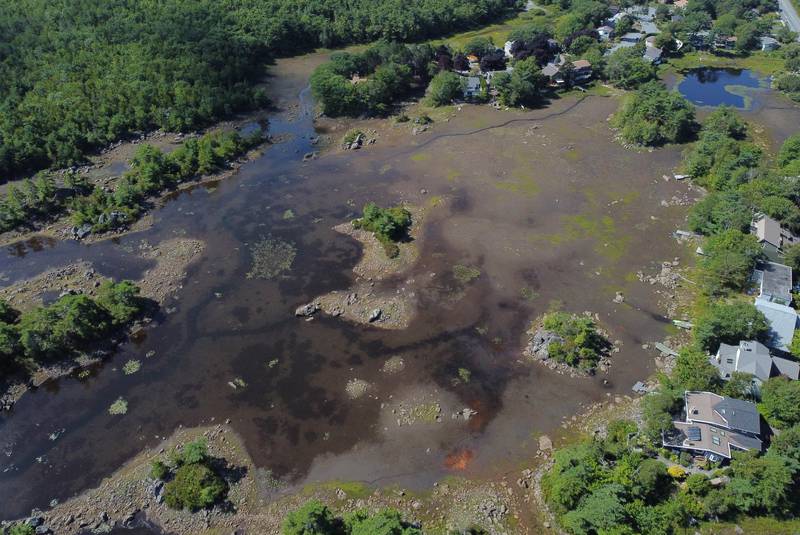 How microbes could help clean up Nova Scotia's abandoned mines. Emma Smith for CBC News NS (Aug 6, 2020). "We want to develop a treatment that you would apply . . . on the site and that would block the arsenic and the mercury from accumulating, and you could either then replant with native plant seeds or just allow the site to recover naturally," [Link] [Genome Atlantic press release] [CBC Radio One Transcript] [Related CBC story about the NS Auditor General's report]



Port Wallace Gamble: The Real Estate Boom Meets Nova Scotia's Toxic Mine Legacy Part 1:

Joan Baxter for Halifax Examiner (March 1, 2020): "I would say remediation is an important priority. But before you start doing the remediation, you need to understand what is there. We don't even have maps. Many of the maps that are still being used today are from the 1970s, with a few modifications since that time. We don't know how to make those decisions if we don't have proper maps." [Link]



Impact of gold mine contamination in N.S. understudied, research finds:

Frances Willick for CBC News (Feb 25, 2020): ""There's really been not very much work that's been done to study the environmental effects of all of this leftover waste and potentially the human health concerns," said Molly LeBlanc, the lead author of the study and a recent master's graduate in applied sciences at Saint Mary's University." [Link][PDF copy]
2019
How do you clean up a contaminated 150-year-old gold mine?:

Frances Willick for CBC News (Oct 12, 2019): ' "It is good gathering of information and identifying the gaps that are required before you're even able to start thinking about remediating the area," said Linda Campbell, the director of the school of environment at the university. "I really applaud the people who are involved in this report." '. [Link] [PDF copy]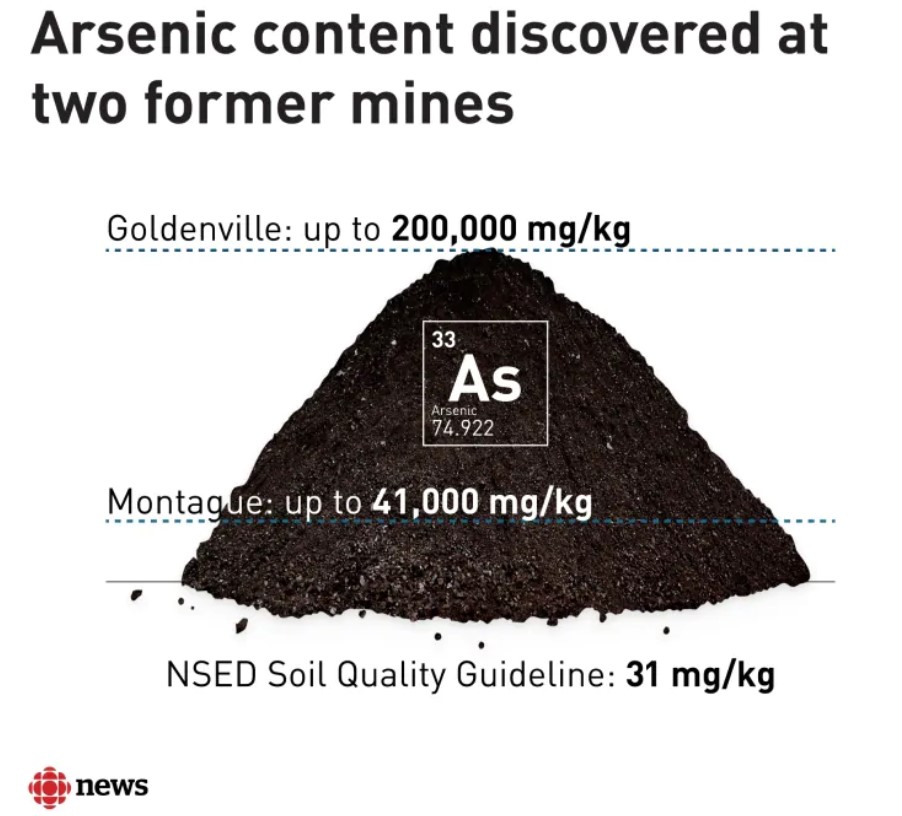 Feasibility of using local plants as part of remediation of gold mine tailing sites:

95.7 interview by Katie Hartai with Dr. Emily Chapman about developing an approach for remediation with local plants. [Link] [Transcript PDF Link] [Link to publication].




HRM warns of arsenic contamination in Dartmouth stream:

Frances Willick for CBC News (August 30, 2019): ""I'm very happy that different levels of government are finally starting to explore this issue," she said. "That's good news for all of us. We need better quantification of the risks. What's out there? It's a big gap in the information." [Link] [PDF copy]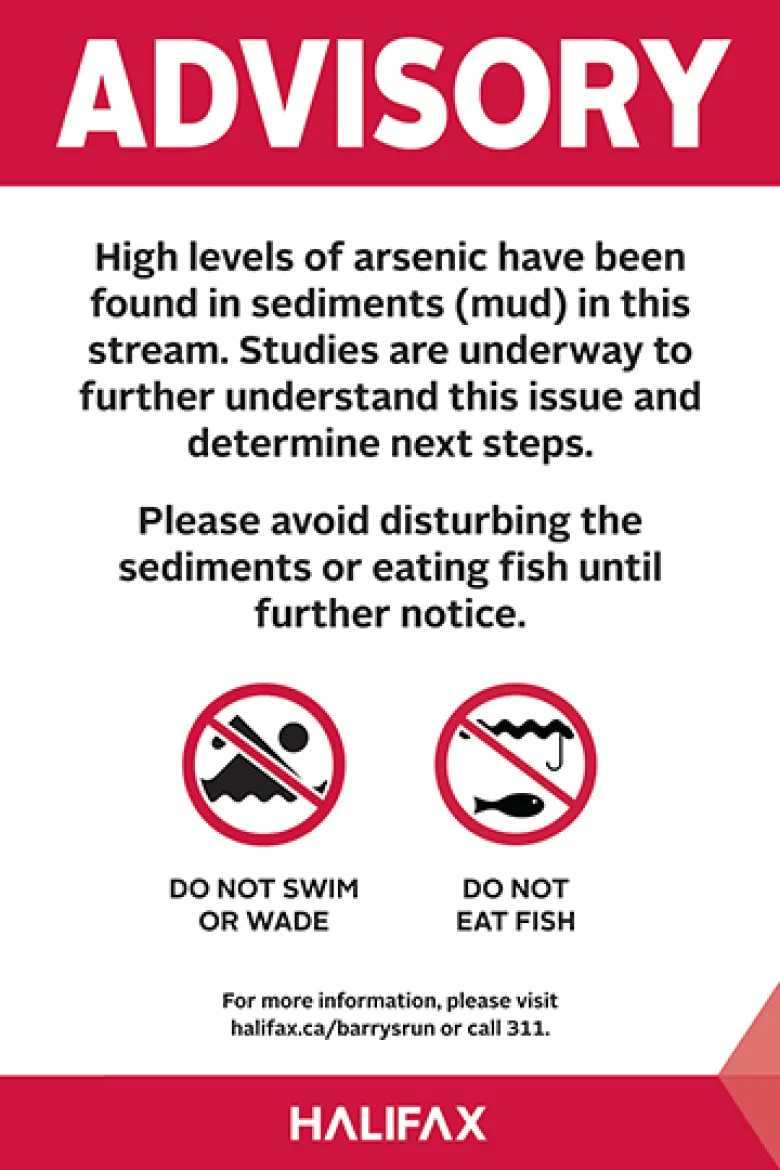 Researchers hope to make predicting algae blooms simple:

Emily Baron Cadloff for CTV Atlantic (August 9, 2019): "With the threat of blue-green algae present in lakes in the Maritimes, researchers believe monitoring water before algae blooms is important." [Link]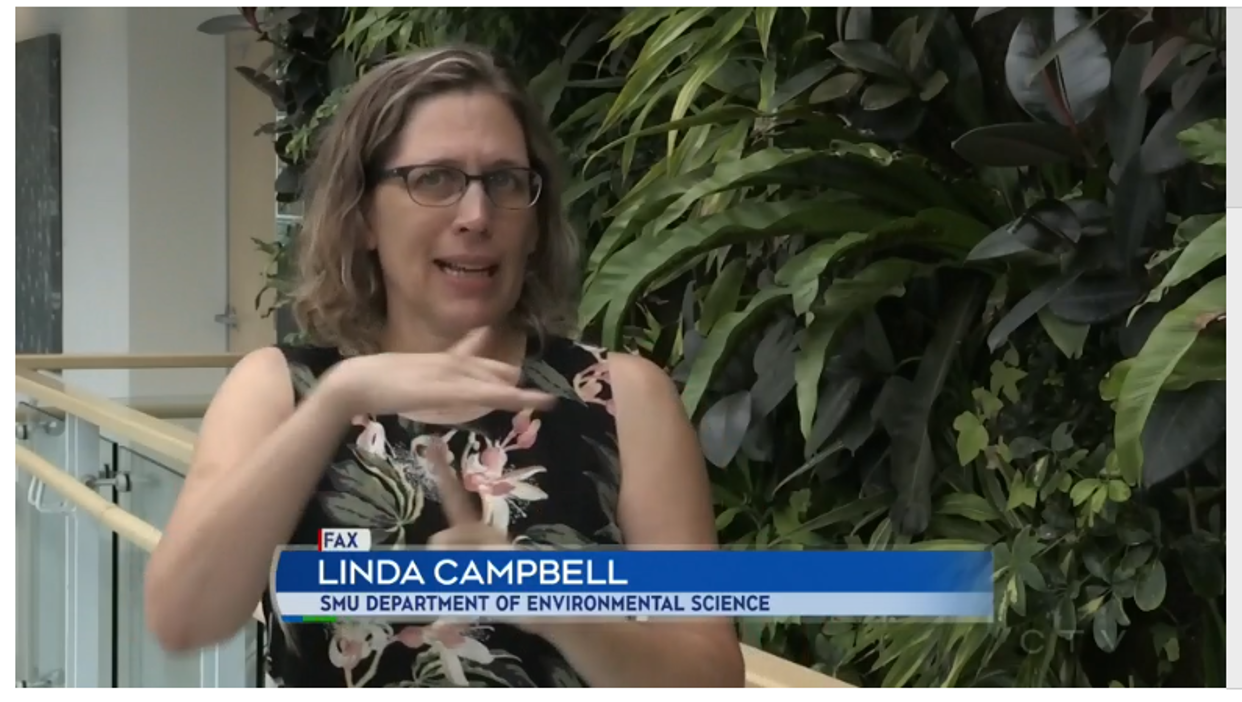 Modern and historical gold rushes in Nova Scotia:

Andrew Bethune for The Coast (August 8, 2019):"Linda Campbell's rubber boot sinks into gray muck. She is stepping through a historic tailings site leftover from the Montague mines, just outside Dartmouth." [Link] [PDF copy]

After the gold rush:
Joan Baxter for Halifax Examiner (June 25, 2019):"Campbell sees historic tailings in the province's wetlands as a "big problem," the full extent of which no one knows yet. Tailings have not been fully mapped, let alone assessed and analyzed to gauge the health risks they pose." [Link]



Related story: Michael Gorman (July 25, 2019). Nova Scotia to spend $48M cleaning up 2 former gold mines.[Link].




Scientists ask for help to solve snail 'mystery'.

CBC New Brunswick (May 17, 2019) "The Chinese mystery snail is a potentially invasive species, says Sarah Kingsbury, a graduate student in environmental science at Saint Mary's University in Halifax". [Link] [Related story - CBC Radio Transcript].

Nova Scotia Law amendments committee, Bill 116 Biodiversity Act:
Jean Laroche for CBC Nova Scotia (March 25, 2019): Sarah Kingsbury presents on the importance of paying attention to invasive species. "Without the proper funding, moderating programs, public education programs and governmental regulation oversight, Nova Scotia will continue to be a hotspot for invasives," said Kingsbury. "Currently our situation is poor." [Link to CBC article][PDF copy]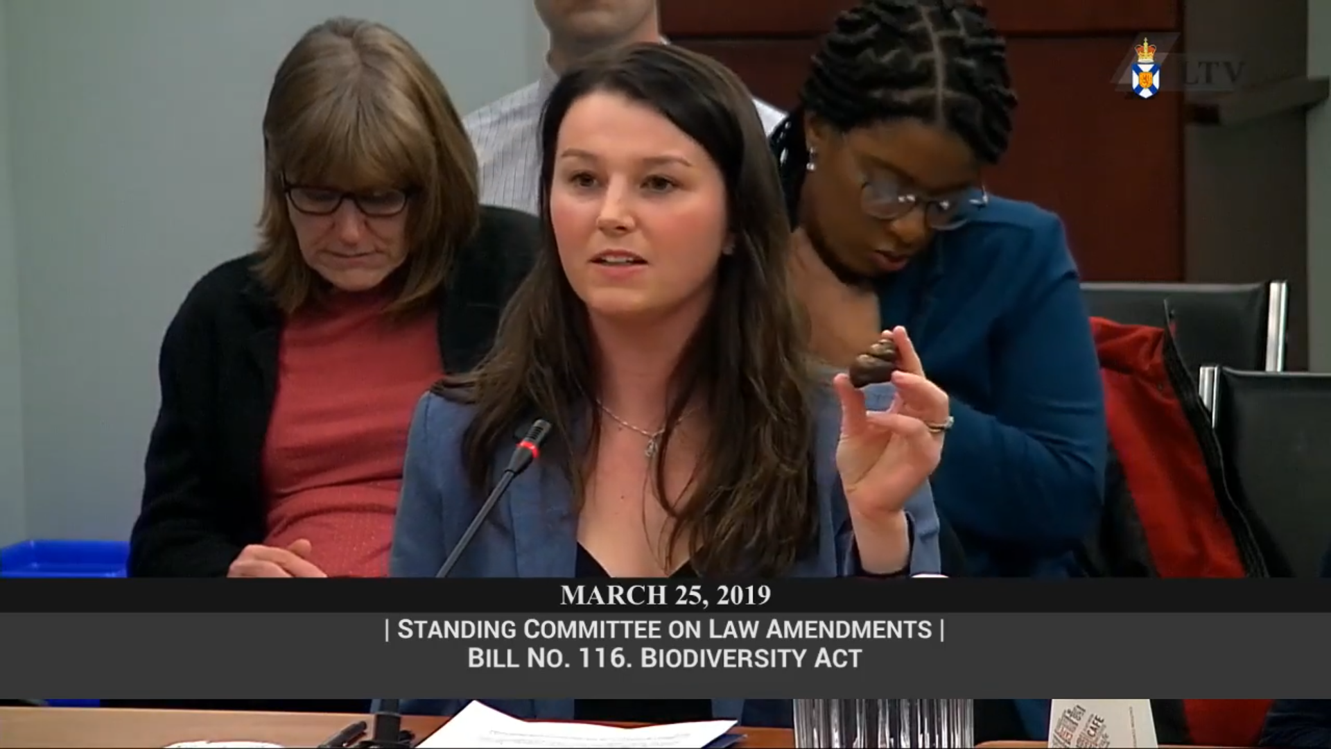 SMU Research Expo:
Suzanne Belliveau, CTV Maritimes 5 pm News (March 1, 2019): Sarah Kingsbury mentions DEEHR's historically contaminated gold mine research. [Link to TV segment][PDF Link to rough transcript][Link to DEEHR 2019 Research Expo poster]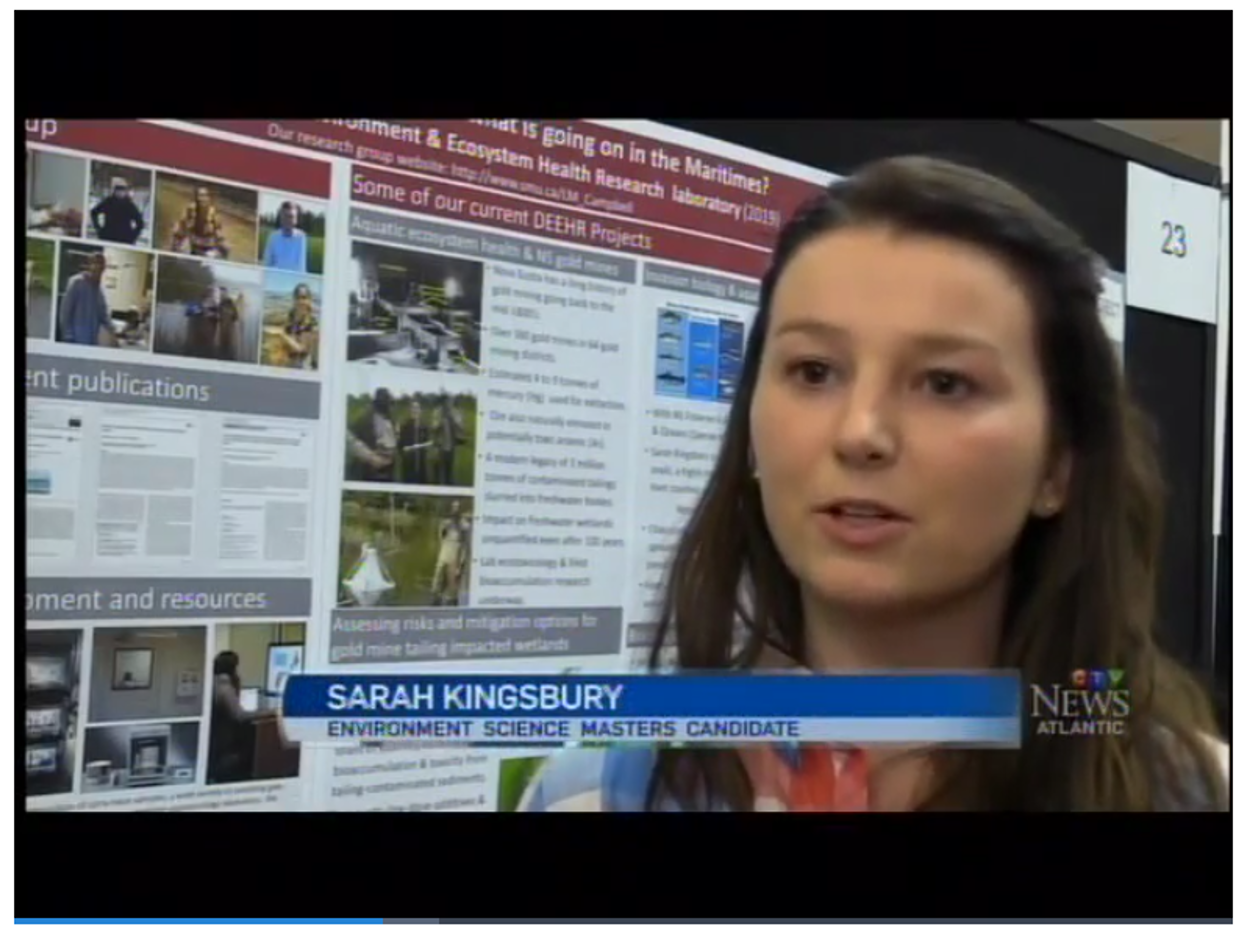 2018
Environmental contaminants in Nova Scotia bald eagles:
Shaina Luck, CBC NS News (Dec 31): '"To keep [eagles] healthy, we need to understand how they're accumulating contaminants. We use that data to protect the eagle population in the future," Campbell said.' [Link to CBC NS news article][Link to CBC Radio podcast & PDF transcript of podcast][PDF copy]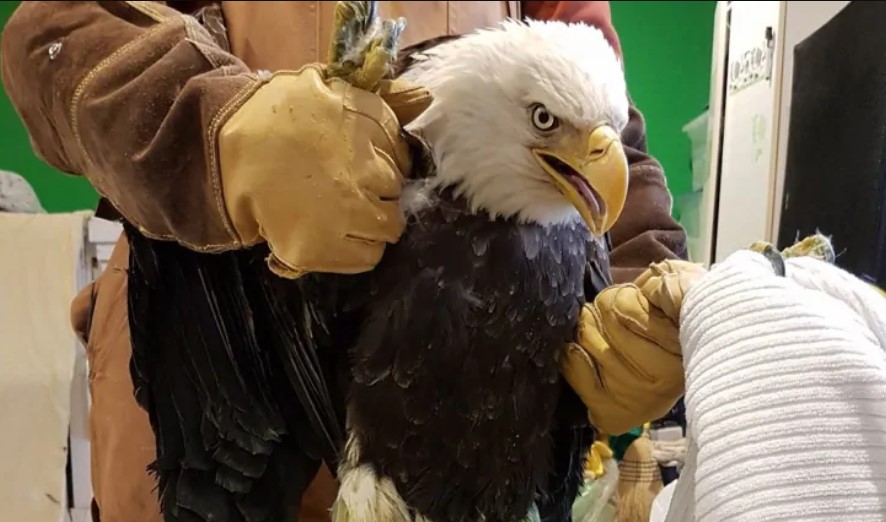 CBC Nova Scotia coverage of vulnerable & endangered aquatic species in Nova Scotia (as part of the "Sharing Our Planet" series):
Samatha Schwientech, CBC NS News (Nov 20): "

Campbell said freshwater mussels are really important to lakes because they help filter the water, change nutrients in the lake and are also a source of food for many fish species.

" [Link to CBC NS news article][PDF copy][Link to CBC Radio podcast & PDF transcript of podcast]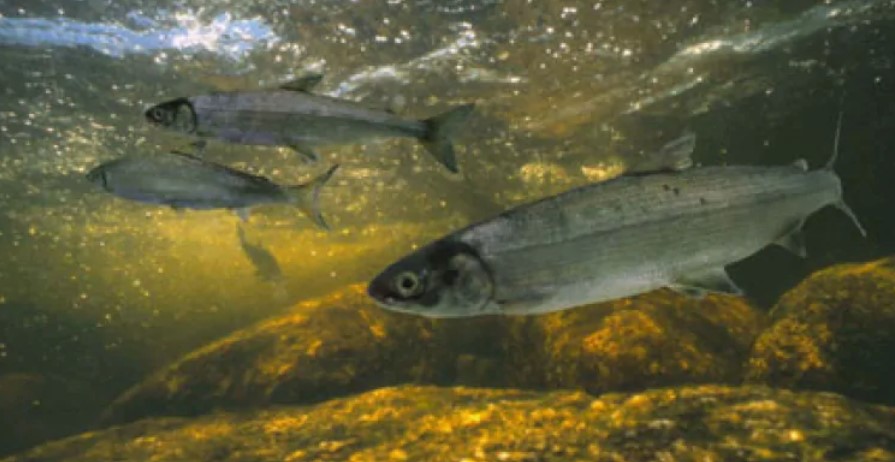 CBC Nova Scotia coverage of the NS Lands Inc RFP for Montague and Goldenville
Frances Willick, CBC NS News (Oct 13): "What she's standing on is the tailings from the old Montague gold mine. They're responsible for the high mercury and arsenic levels that have been showing up in the creatures Campbell has been studying, including dragonflies, damselflies, mayflies, larvae, beetles, spiders, water striders and scuds - small invertebrates that look like shrimp." [Link] [PDF copy]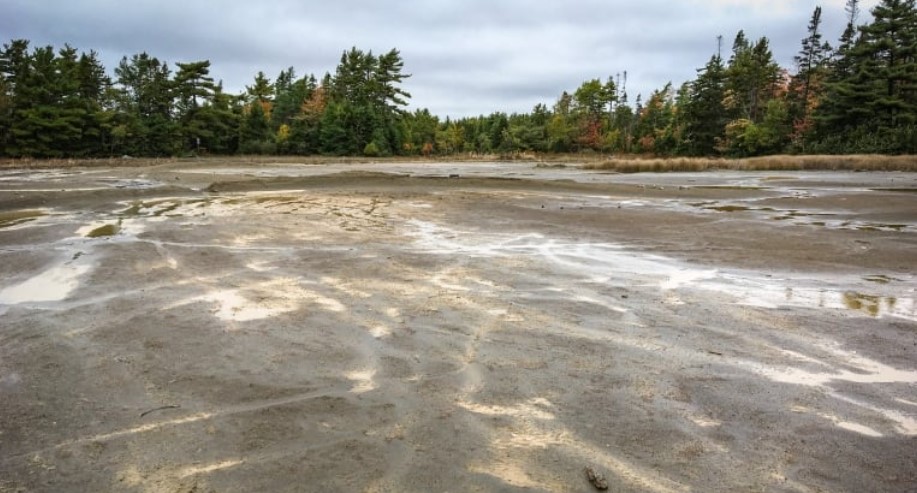 2017
March for Science Halifax Rally (April 22, 2017)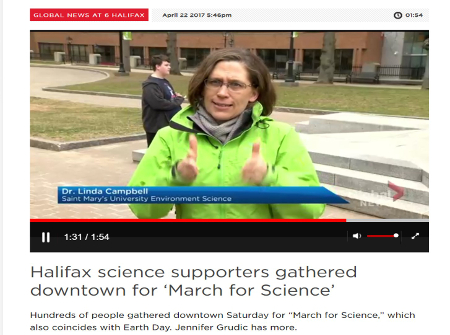 Global News at Halifax 6 pm news. "Scientists have a responsibility to inform the public. The public has responsibility to listen. Everyone shares the responsibility to work together on solutions." [Link to Global TV segment, no subtitles. ASL at 1:29-1:46 mark ] (April 22, 2017)

Atlantic Provinces Sign Language Place Name Project (Link to project site.)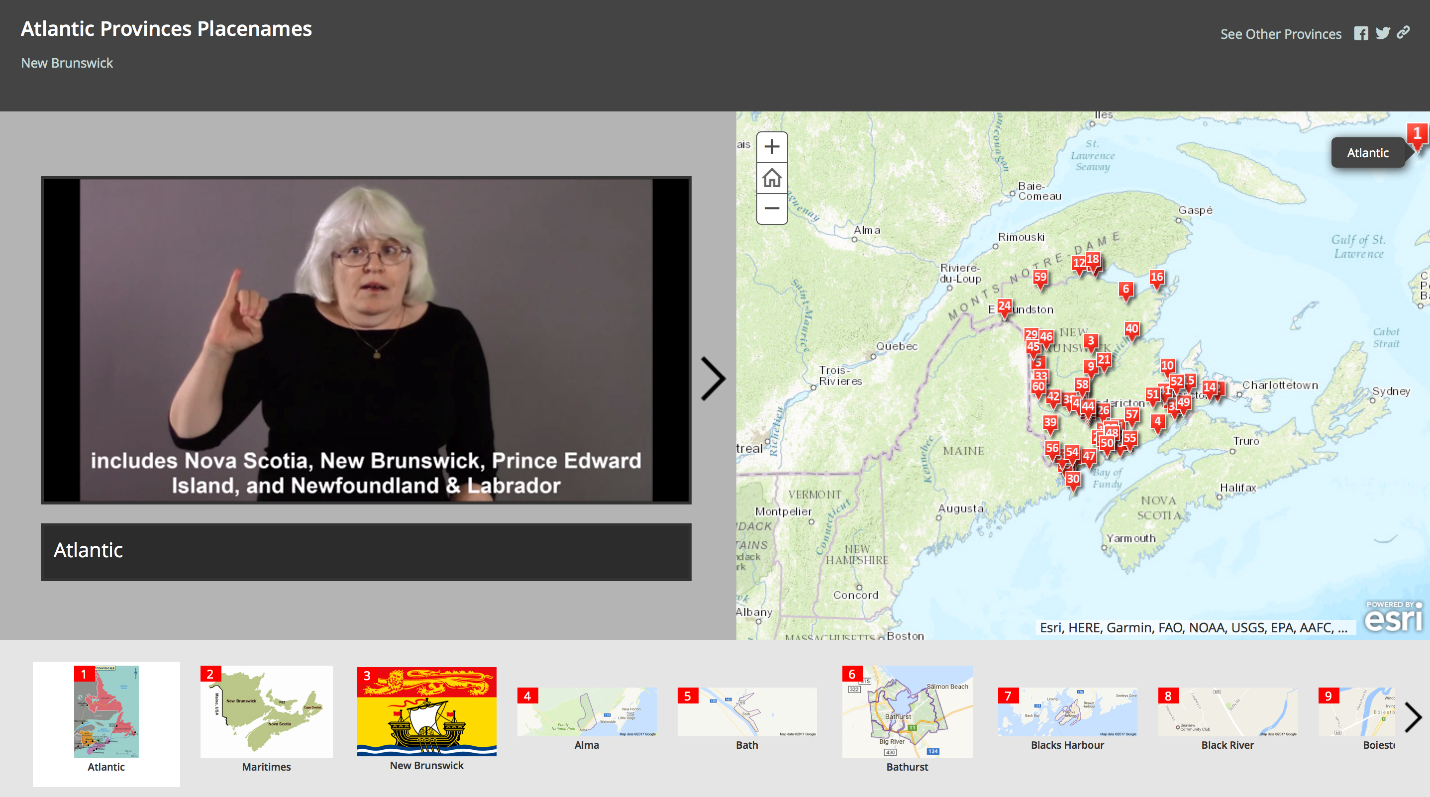 "Knowing how to name Atlantic Canadian locations using the two forms of sign language most common in those provinces has become much easier, thanks to a new online tool created by a Halifax environmental science professor." [Link to CBC article] [PNG copy] January 30, 2017. (Also mentioned on the CBC Atlantic Canada evening TV news for January 30th)

"That's Maritime Sign Language for Yarmouth, one of 120 place names shown in an innovative new project connecting the dots between language and geography around the Atlantic Provinces." [Chronicle Herald Jan 31, 2017]

"If you're wondering how Saint John, New Brunswick differs from St. John's, Newfoundland and Labrador in sign language, you can find that out quickly through the new Atlantic Provinces Sign Language Place Names map that's been released by Saint Mary's University." [Link to ESRI Canada article] [JPEG copy] (Feb 14, 2017)

"And for the community there's been a lot of interest in this project and we're hoping that, you know, talking with people like yourself now will get the word out and really sharing this important resource that is now available." News 95.7. The Sheldon Macleod Show. [Link to PDF transcript of radio interview] (January 30, 2017)


2016
The Science Files: Microfibres & Accessibility in Science


"And it's quite ironic because they make their products from plastic bottles and ironic that they're trying to save plastic by recycling these bottles and then it becomes an issue at the end."

"We really do need to support and welcome diversity into science. We have to be more diverse and have clever people working together and that's really wonderful because everyone will then bring their own perspectives and different ways of solving problems. And then when we bring these people together that then will really improve how we manage things within the world."


[Link to text transcript PDF] Dec 3, 2016.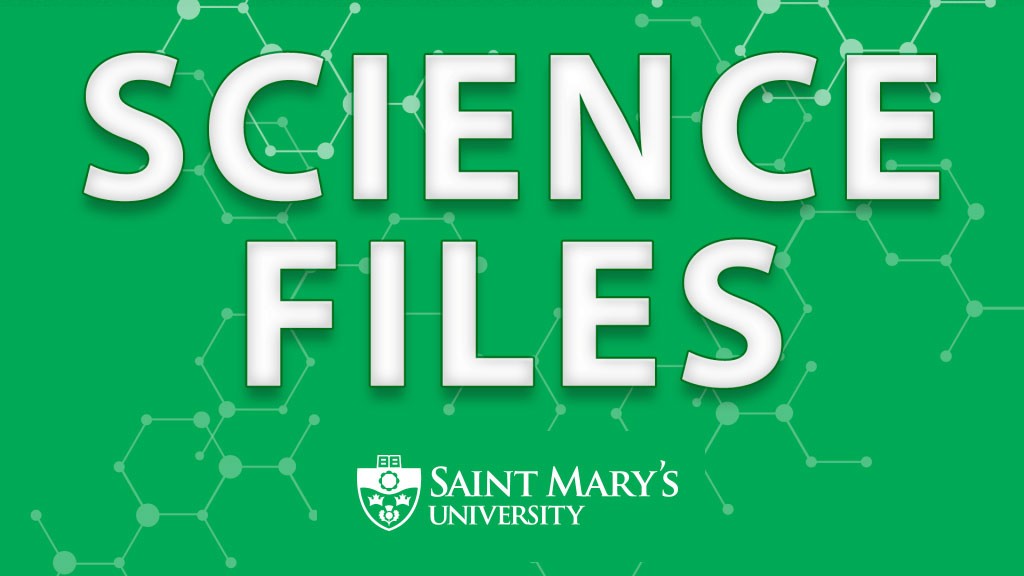 The Science Files: Environmental Science


"And it's how mercury becomes methylmercury that is the problem and that is environmentally dependent."


[Link to text transcript PDF] August 14, 2016.

Mercury emissions risk fish, health: Mercury contamination is prevalent around the province's gold mines


'Nova Scotia's eastern positioning puts the province at risk for mercury emissions - and it has nothing to do with how much we produce.'

Reported in The Signal (University of King's College Journalism program newspaper). [Link] [JPEG copy] March 7, 2016

2015
Fur mercury concentrations in little brown bat colonies across Nova Scotia is related to water chemistry

Little brown bats consume high number of insects, including those with aquatic life cycles. Our research using archived bat fur and long-term monitoring data have shown significant relationships for elevated mercury concentrations in little brown bat colonies which are near waterbodies with more acidic pH and more bioavailable mercury. This shows that mercury not only affects living organisms within lakes, it can also affect terrestrial organisms living around those lakes.

Reported in the Environmental Monitor [

Link

] [JPEG copy] February 12, 2015.
2013
Mercury can be low in fish, even from global hotspots

The mercury biomagnification rate in a global mercury hotspot is low, says a new study conducted in China by an international group of researchers. China is a currently a mercury deposition hotspot because it uses more coal, the largest source of mercury pollution to the atmosphere, than any other nation. 'Most of what we know about mercury biomagnification is from temperate ecosystems...' [Read more...] Dec 16, 2013.

Saint Mary's Professor Puts Mercury on the Map

With its wild cry and its prominent image on the dollar coin, the common loon is iconic to Canada. Yet, mercury contamination may be stressing our loon populations in the east. A new study co-authored by the Saint Mary's professor indicates significant risk from mercury toxicity---not only to Canada's iconic waterbird, but also to some varieties of sportfish. [Read more...] Oct 31, 2013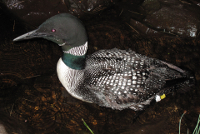 ---
Mercury may biomagnify more effectively in colder latitudes


Global review reveals additional vulnerability of Arctic ecosystems



A new international review of mercury in freshwater and marine food webs helps explain why many top predators in the Arctic have high mercury concentrations. The review found that the increase in mercury from prey to predators, biomagnification, is greatest at high latitudes, such as the Arctic. [Read more...] Oct 31, 2013.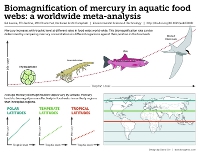 ---

New National Database Provides Insights on Mercury Levels in Fish Across Canada

The Canadian Fish Mercury Database, assembled to conduct a national assessment of mercury risks to predatory fish and wildlife, was constructed from data collected from measurements of mercury in over 330,000 freshwater fish from more than 5,000 locations across Canada. It provides the most comprehensive summary of fish mercury measurements. Sept 8 2013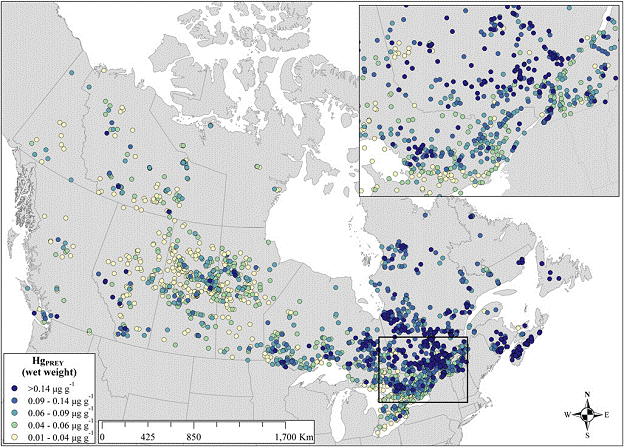 ---
2012
International Study Maps Great Lakes Stress

A comprehensive map three years in the making is telling the story of humans' impact on the Great Lakes, identifying how "environmental stressors" stretching from Minnesota to Ontario are shaping the future of an ecosystem that contains 20 percent of the world's fresh water. [Read more...] Dec 17 2012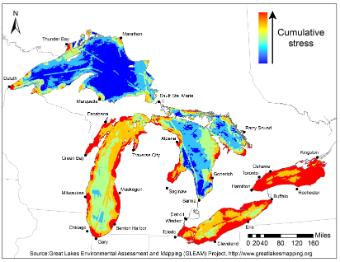 ---
Updates
---