---
Home
---
People
---
Research
Historical gold mine tailings
- Ecology & biomonitoring


- Remediation



Invasive species




- Chinese mystery snails


- Chain pickerel
- Crayfish

---
Publications
---
Teaching
---
Resources & Links

---
Lab News
---
Media & updates
---
Directions
---




//

Saint Mary's University at Halifax
Saint Mary's University is located between Inglis Street, Robie Street and Tower Road in the South End of Halifax.

Mailing address:

Linda Campbell
Environmental Science
Saint Mary's University
923 Robie Street
Halifax, NS
B3H 3C3

Note: Saint Mary's University is in

Click here to go to the SMU campus in Google Maps.

Click here to view the virtual tour of the SMU campus in Halifax.

Where is the the Science Building on the SMU Campus?
The Science Building ("S" on this map) is located by the parking lot on the corner of Robie Street & Inglis Street.

My office, S227, and the group's office, S228, is on the second floor of the Science building closest to Inglis Street on the map. My office is on the opposite side of the elevator shaft from the Dean of Science offices and is just across from the washrooms. This is what our offices look like: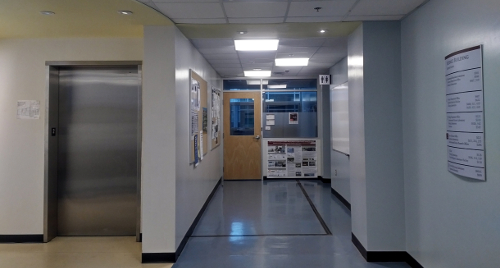 Bus:
Halifax Metro Transit has many routes which go by the SMU campus. In particular, Routes 4, 9, 14 and 61 will take you directly to the SMU campus from various directions. Check the routes with Halifax Metro Transit, Google Transit and Bing for best routes at different times of the day.

Cycling:
Caution is needed because roads are shared in Halifax. The Halifax Regional Municipality has produced a bike map and there are plans to establish more cycling routes throughout Halifax.The Halifax Cycling Coalition is a good resource for safe cycling routes in HRM as well. See below for road directions.

Bicycle racks are located at the east side of the Science building, McNally courtyard, Loyola turning circle, the Homburg Centre and between the Burke and SUB buildings. Bicycles must be parked in the stand and locking your bicycle is recommended.

Locking bicycles to walkways, ramps, doorways, parking meters, and any location that may create a safety hazard is not permitted and locks can be removed by Facilities Management / Security at the owner's expense.

Driving to SMU from outside of Halifax:


Travel to Halifax from the YHZ airport

: Leave the Halifax Stanfield International Airport and travel on Highway 102 towards Halifax. Follow the driving directions below as you approach Halifax.



Driving From New Brunswick and from the Maine, US border

: Take Highway 104 (a toll highway) to Truro, then take Highway 102 to Halifax. (Note: if driving from the northeast US, a good route through the Canadian/US border is St. Stephen, New Brunswick (NB Route 1) and Calais, Maine (Route 9). Link.)

Once nearing Halifax, you have two choices:

(a) Just past the airport, take the 118 to Dartmouth, then the MacKay bridge to Halifax. Check the Halifax Harbour Bridges website for the current bridge toll and whether bridges are closed: Link. Some lanes provide change - watch for the sign above the toll booth. Just across the bridge you will see an exit for Robie St. Take this exit and stay on Robie Street until you reach Saint Mary's University at the end of the street on the left, just past the final set of traffic lights.

(b) Stay on the 102 until it ends and turns into Bayers Rd. Continue along Bayers Rd. past the Halifax Shopping Centre, and use the right-hand turning lane to turn right on to Connaught Ave. After 1.2 km, turn left on Quinpool Rd. and drive 1.7 km along Quinpool Rd. to Robie St. Use the right-hand turning lane to turn right on to Robie St., and drive south. Saint Mary's University is at the end of Robie Street on the left, just past the final set of traffic lights.

Parking at SMU: Link. Parking in the south end and downtown areas of Halifax can be challenging! There are no free parking spots on campus. There are 2-hour free city parking spots on Robie Street, Tower Street and (very few spots on) Inglis Street plus side streets within the South End neighbourhoods around the campus, all on a first-come, first-served basis. There is also an all-day public paid parking lot just off Inglis with a pay & display meter (#2 on this PDF map), with receipts. Complimentary parking passes are available for visiting collaborators and service technicians under certain conditions - please contact Dr. Campbell to discuss. Some FAQ about parking at SMU.

Other travel options:


Carpooling, transport services & rideshare services:


The HfxRideMatch program administrated via the HRM Municipality is a popular option for those seeking to carpool and share rides for regular commutes. Link.

Uber ride-sharing is available in Halifax. There are many licensed taxi and limo services, including Atlantis Limousine, Yellow Cab and Casino Cab. The Stanfield airport website maintains an up-to-date list of car and transport services (link below).

Rail:
Via Rail Ocean Line connects with Montreal & Toronto and has a number of stops across eastern Canada. There are connections to the USA via Amtrack as well. http://www.viarail.ca/en/trains/atlantic-canada/montreal-halifax-ocean



Bus Lines:


The Maritime Bus Lines services routes between major destinations within Nova Scotia and across the Maritimes: http://www.maritimebus.com/en/



Air:


Halifax Stanfield International Airport (Code YHZ)
Website: http://www.hiaa.ca/

There are direct flights between Toronto Canada, London UK, Newark NJ and many other international and Canadian cities. Check your preferred airlines or travel agent provider for best flights and fares.

At the airport, there are several ground transportation options, including rentals, taxis (fixed fare rates), shuttles to Halifax & other cities, hotel shuttles, Atlantic-wide bus services and the public bus "MetroX" service. The airport website maintains an up-to-date list of all transport options.


---
Content
---
-
Where is SMU?
-
Location of the Science Building at SMU
-
Bus & cycling to SMU
-
Driving directions to SMU
-
Parking at SMU
-
Other travelling options
---