---
Home
---
People
---
Research
Historical gold mine tailings
- Ecology & biomonitoring
- Remediation
Invasive species
- Chinese mystery snails
- Chain pickerel
- Crayfish
---
Publications
---
Teaching
---
Resources & Links
---
Lab news
---
Media & updates
---
Directions
---
There are no indigenous freshwater crayfish in Nova Scotia.
If you think you may have found crayfish in Nova Scotia, please let us know!



Please contact Madison Bond or the DFO Maritimes Aquatic Invasive species by email or phone (toll free 1-888-435-4040).

Additionally if you have the iNaturalist app, we encourage you to add your report there.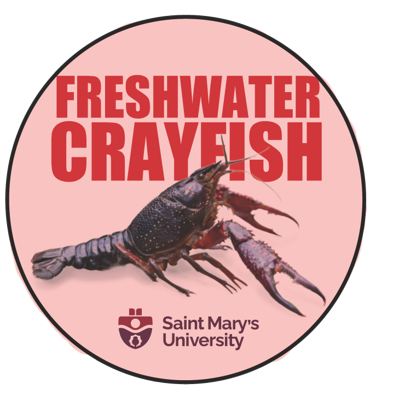 Freshwater crayfish

(Astacoidea)

are closely related to marine lobsters, and there are over 330 species in North America. However, freshwater crayfish are not indigenous to Nova Scotia, Prince Edward Island, Newfoundland and Labrador. New Brunswick has 1 indigenous crayfish, the Appalachian Brook Crayfish (Cambarus bartonii), but also has several non-indigenous species throughout the province.

Invasive crayfish, specially in a region with no native crayfish ecosystems, is a concern. Many species of invasive crayfish present a significant risk because they are "ecosystem engineers" due to their significant burrowing and habitat alternation activity. This summer (August 2023), we have confirmed the presence of a new crayfish species in Waverley, Nova Scotia, and we are now verifying the species. It is most likely red swamp crayfish (Procambarus clarkii). Non-native Spiny-cheek crayfish (Orconectes limosus) was found in 2005 from Freshwater Lake, Cape Breton Highlands Park, which makes our finding the second such discovery for Nova Scotia.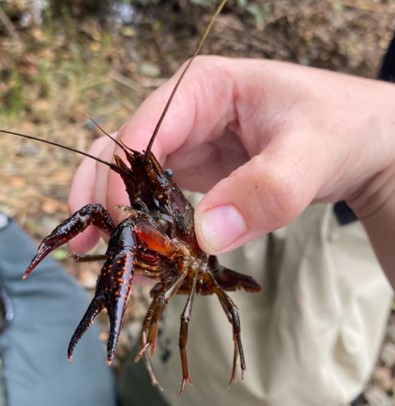 We are investigating the possible presence of non-indigenous crayfish in Nova Scotia lakes in collaboration with the Aquatic Invasive Species staff at Department of Fisheries and Oceans. We are assessing trapping methodologies, eDNA monitoring and underwater videos using the Trident SOFAR underwater ROV to investigate presence and impacts of crayfish species in the Maritimes. We are also investigating the impacts of crayfish on food web ecosystems using stable isotopes ecotracers.

This page will be updated as we continue with our investigations.


RESOURCES:

DEEHR Resources
DEEHR Publications & theses

Forthcoming. Watch this space!
External resources

SELECTED MEDIA MENTIONS (for full list, go to this page.)
---
Headings
---