Internship opportunity with Clean Foundation & the DEEHR group!
Environmental Impacts & Invasive
Species Monitoring Research Assistant
. 6-month position, to start in September 2019. Apply as soon as possible.
PDF Link to job description
.
PDF link to how to apply
.

The DEEHR group present an annual update of our ongoing research projects at the SMU Research Expo. (March 1, 2019).
Link to our 2019 Poster
.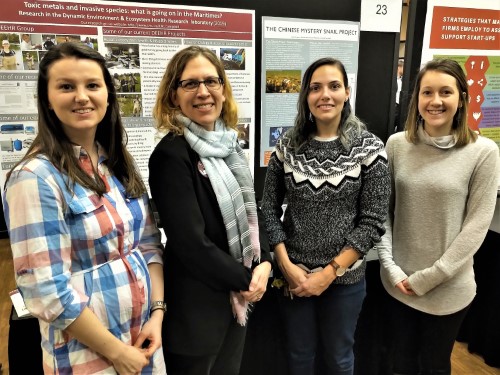 Linda Campbell discusses the Bald Eagle project with CBC Nova Scotia. [Link to
CBC NS news article
][Link to CBC Radio podcast &
PDF transcript of podcast
] (Dec 31, 2018)
CBC NS media coverage of the RFP for Montague and Goldenville legacy gold mine tailing assessments with Dr. Campbell. (Oct 13, 2018)
Link
.
WhiteFeather Hunter joins our group to work on
Prospective Futures: Aurelia Project
as a part of her bioartist residency. The project will bridge art and science to examine the impacts and "healing" of highly impacted legacy gold mine tailing sites in Nova Scotia. (Oct 2018).