---
Home
---
People
---
Research & Opportunities
Historical gold mine tailings
Invasive & vulnerable species

Chinese mystery snails
Chain pickerel
---
Publications
---
Teaching
---
Resources & Links
---
Lab news
---
Media & updates
---
Directions
---

A wide-spread issue for the province.



Note:

If you are interested in potential applications of our research, joining our research group or would like to contribute to our data analyses, please email Dr. Linda Campbell.



Nova Scotia lakes and rivers have been impacted by introduced and invasive aquatic species.

To date, most focus on freshwater non-native species have been on sport fish species. In particular, chain pickerel and smallmouth bass are of high interest. Both species were first illegally introduced to Nova Scotia lakes around the 1940's and have now spread throughout the province. Chain pickerel has been associated with declines in amphibians and native fish species. We are also interested in Chinese mystery snails, an aquarium & food species native to east Asia, which may be spreading through the Shubenacadie waterway system and the rest of Nova Scotia.


We are collaborating with Department of Fisheries & Oceans, Nova Scotia Fisheries & Aquaculture, Cape Breton University, Eastern Charlotte Waterways, New Brunswick Museum, and other groups & colleagues to identify the impacts and presence of invasive species. The DEEHR team is carrying out several investigations looking at chain pickerel, smallmouth bass, Chinese mystery snails and other species, including those projects:

Assessing impact of chain pickerel on freshwater food webs which also include known Species At Risk (SAR) in Nova Scotia and New Brunswick.
How mercury contaminants biomagnify in food webs with chain pickerel and smallmouth bass.
Ecology and presence of Chinese mystery snails in lakes across the Halifax Regional Muncipality.
Culturing and maintaining wild-collected Chinese mystery snails in the laboratory.
Chain pickerel (

Esox niger

) is a widely introduced fish species in Nova Scotia lakes. It is an aggressive ambush predator which will consume a wide variety of food ranging from dragonfly larvae to fish to frogs. Small mammals, birds and turtles have even been found in chain pickerel stomachs! Chain pickerel is associated with significant declines in diverse fish and amphibian populations and will impact native sport fisheries. Our work looks how chain pickerel may be affecting contaminant transfer and vulnerable species in many lakes across Nova Scotia and New Brunswick. Currently, we analyzing data for numerous lakes from Sydney in Cape Breton to Yarmouth in southern Nova Scotia. In addition, we are studying the impacts of chain pickerel on Species-at-risk organisms including yellow lampmussel in Cape Breton lakes and small-bodied rainbow smelt in Lake Utopia.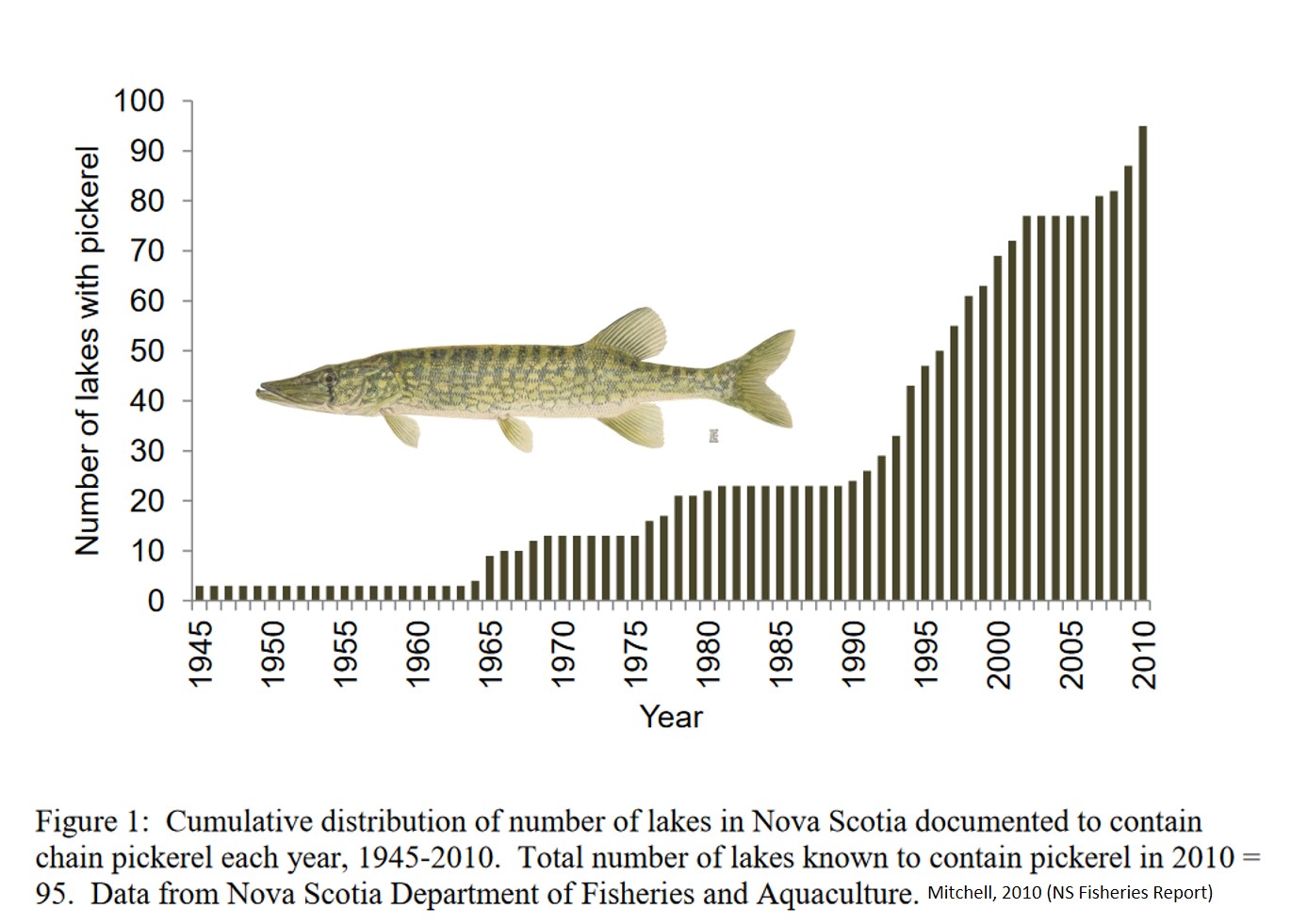 Chinese mystery snails,

Cipangopaludina chinesis

(synonyms: Bellamya chinensis, Paludina chinensis), are more recently discovered in Nova Scotia, and are thought to be probable aquarium species released inappropriately into lakes. Those snails have been reported widely across the USA but are not as well studied in Canada. This snail species orginates from the far east of Asia & Russia regions. Chinese mystery snails are a very hardy species which can tolerate a wide range of temperatures in freshwater ecosystems. Those snails have a "trapdoor" (operculum) covering their shell opening providing significant protection. Chinese mystery snails have gills for underwater respiration and can survive extended periods in air. In addition, those snails are live-bearing (does not lay eggs), with female snails having the capacity to contain over 100 fertilized embryos for eventual development and release as juvenile snails. We are investigating the presence, abundance and impacts of Chinese mystery snails across the province. We are also investigating reports of Chinese mystery snails in freshwater ecosystems across Canada. There is concern that the Chinese mystery snails may be distrupting native mussel and snail populations, impacting fish feeding patterns and even shifting nutrient cycling in lakes which could encourage algal blooms.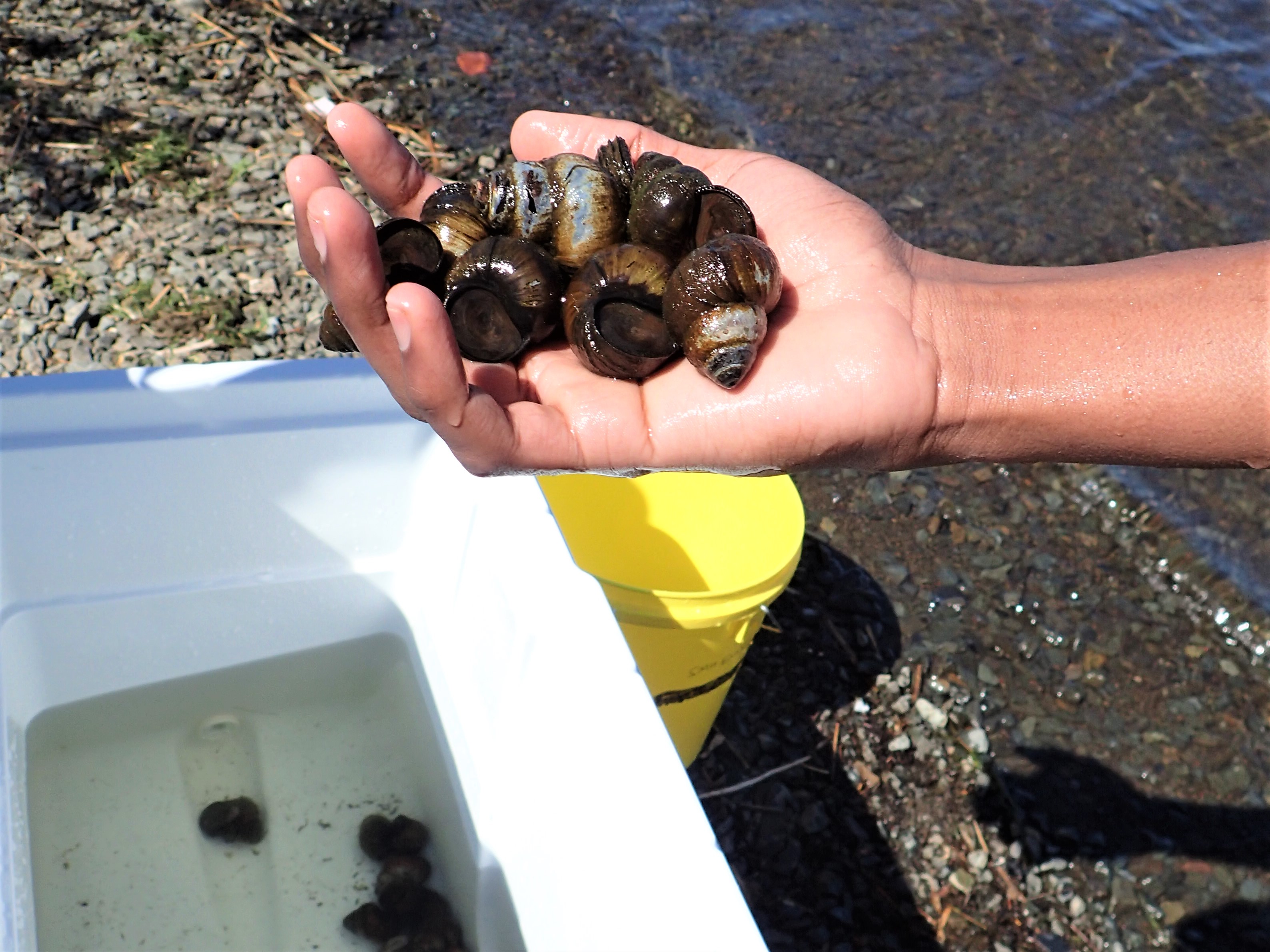 Smallmouth bass
Smallmouth bass are widespread across Nova Scotia and were introduced around the same time as Chain pickerel. Those are native to other parts of Canada, but not in Nova Scotia. Smallmouth bass are visual predators and prefer warmer clearwater lakes, and can significantly reduce frog, turtle and nearshore fish populations in lakes. Impacts are widespread and impact the entire food web. In lakes with both chain pickerel and smallmouth bass, biodiversity and native species both can be greatly reduced. We are studying the impacts of both non-native fish species across Nova Scotia to better understand trophodynamics and contaminant transfer.



RESOURCES:

---
Headings
---