<![if !vml]>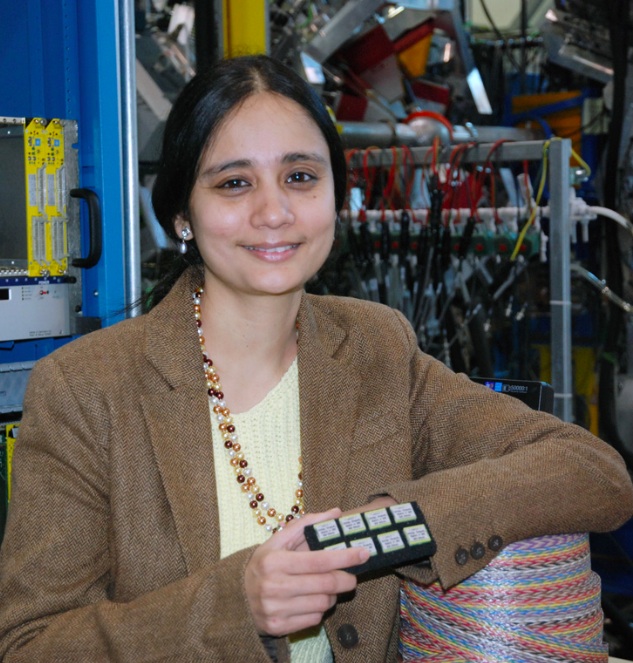 <![endif]>Dr. Rituparna Kanungo
Professor of Physics and Affiliate Scientist, TRIUMF
Astronomy and Physics
Saint Mary's University
Office : Atrium 312
Email : ritu@triumf.ca, rituparna.kanungo@smu.ca
Research :
Experimental subatomic physics
--- Exotic forms of nuclear isotopes: halo, skin
--- Change of shell structure in exotic nuclei
--- Nuclear excitations
--- Synthesis of elements in nature
Nuclei, that make up 99% of our body weight, are the core of all matter around us and the driving fuel for the stars. I find it fascinating to explore the properties of these tiny (~10-15 m ) objects that have led to the creation of our lives. How, why and where did oxygen, carbon that are necessary for our lives be created in nature ? It turns out that most of the nuclear species that we find on our earth today were created in the core of exploding stars, like the supernova. In this creation process are involved nuclei that have very usual properties than what we find on our earth. My research involves re-creating these species in our laboratories and inducing further reactions with them. Accelerated beams of such species are called radioactive ion beams (RIB).
Reactions with RIB that I pursue at the accelerator centers are, reactions to determine radii and density of a nucleus that allows us to discover exotic phenomena such as nuclear halo and skin. Knockout and transfer reactions to study nucleon arrangements from which we have discovered new magic numbers and a new view of nucleon arrangement inside nuclei. Inelastic scattering experiments to study the discover new energy levels and excitation phenomena. Reaction rates by transfer reactions can provide information relevant for nucleosynthesis.
Interested students are welcome to contact me.
PUBLICATIONS (click here)
News clips on our research activities
(i) Nobel Symposium on rare isotope beams
(ii) Nature News and Views, 24O a doubly magic nucleus,
Nature 459, 1069-1070
(iii) Physics World highlights : new magic nucleus 24O
(iv) The Chronicle Herald (front cover news) : CANREB project
(v) Radio Canada International : CANREB project
(vi) Nova Scotia Research and Innovation Trust (highlights) : IRIS project
(v) TRIUMF news headlines : Isotope project
Accelerator centers where my group performs experiments:
TRIUMF ,

Vancouver, Canada (National Laboratory of Canada)
GSI, Darmstadt, Germany
RIKEN,

Wako-

shi

, Japan
Awards/Honors
Fellow of the American Physical Society Award 2019

CAP-TRIUMF Vogt Medal Award 2018

NSERC, DAS Award 2011

Named one of most valued reviewers of 2010, Elsevier Nuclear and High energy Physics,

Alexander von Humboldt fellowship 2005

GSI Exotic Nuclei Community Award 2003
Research Grants (Principal Investigator)
Group Members
Dr. Jonas

Refsgaard

Dr. David Walter

Dr.

Soumya

Bagchi

Dr. Matthias

Holl

Dr. Alfredo

Estrade

Dr.

Alisher

Sanetuallev

Dr.

Hicham

Al

Falou
Graduate-(Masters/Ph.D.)
Mathieu

Cavenaile

Orry

Workman

Pranav

Subramaniyam

Mukhwinder

Singh

Preetinder

Jassal

Jaspreet

Singh

Randhawa

Amit

Kumar

Satbir

Kaur

Patrick Fortier
Undergraduate
Aaron

Gallant ,

Saint Mary's University,

2007-2008
Christopher

Perro

, Saint Mary's University, 2007-2008

Jia

Dian Chen, Saint Mary's University, 2008-2009

Masaki Uchida, Saint Mary's University, 2008-2010

John Burns, St. Francis Xavier University, 2008-2009

Darien

Niamir

, Stanford University, 2009

Stephen Campbell, Saint Mary's University, 2010

Andrew

Valencik

, Saint Mary's University, 2010-2011
Gregory

Tomney

, Saint Mary's University, 2011-

Joel Atkinson, Saint Mary's University, 2011-

Pauline McLeod 2012-2013

Corwin

Trottier

2012-2013
Julia Purcell

2013

Iymad

Mansour 2014-2015

Matthew Keefe

2013-2015

Orry

Workman 2015-2017

Jessica Churchill 2017

Martin

Hellmich

2017

Sebastien

Roy-Garand 2018-2019

Conor

Waterfield

2018-2021
Jacob

Hollett

2019-2021
Job openings
Graduate students : Interested students please contact me.
Undergraduate research program : Interested students please contact me.
Professional Association/Services
President, Canadian Institute of Nuclear Physics 2015-

Director of International Affairs, Canadian Association of Physicists 2017-2023

Chair, CAP-NSERC Liaison committee 2017-2021

Editorial Board Member, Physical Review C

Editorial Board member, Nuclear Physics News International 2019-

Member, Scientific Council of GANIL, France 2019-

Steering Committee, TRIUMF Five Year Plan 2018

Member, Board of Directors, Canadian Institute of Nuclear Physics, 2012-

Member

of

TRIUMF Policy, Planning and Advisory Committee, 2008-2011

Executive committee member of TRIUMF Users' group, 2008-2010

Judge, DNP Thesis Prize Canada, 2007

Member Division of Nuclear Physics, Canadian Association of Physicists

Super FRS, R3B, EXL

projects in FAIR Collaboration, GSI, Germany

Active Target – TPC (AT-TPC) collaboration, NSCL, USA

EMMA collaboration, TRIUMF

TIGRESS collaboration, TRIUMF